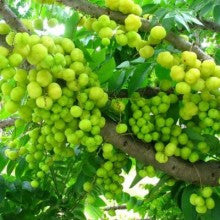 fruitplants-amla-small
Note:This Image is for reference purpose only. Actual plant height will be 0.5 to 3ft.& will be coming with cover packing. Pot should be ordered separately.
The Amla plant is also called as Indian gooseberry has many medicinal properties
The tree is considered sacred by Hindus as the Vishnu is believed to dwell here. The tree is worshipped on Amalaka Ekadashi.
In other Hindu myths, Amla is said to have originated from the drops of Amrit which spilled on earth accidentally, due to the fight of Gods and Demons after ksheera sagar manthan. And hence also this religious belief makes claims that it almost cures every disease and is also good in extending the longevity of life.
In traditional Indian medicine, dried and fresh fruits of the plant are used. All parts of the plant are used in various Ayurvedic/Unani medicine (Jawarish amla) herbal preparations, including the fruit, seed, leaves, root, bark and flowers. According to Ayurveda, amla fruit is sour (amla) and astringent (kashaya) in taste (rasa), with sweet (madhura), bitter (tikta) and pungent (katu) secondary tastes (anurasas).Its qualities (gunas) are light (laghu) and dry (ruksha), the postdigestive effect (vipaka) is sweet (madhura) and its energy (virya) is cooling (shita).
According to Ayurveda, amla balances all three doshas. While amla is unusual in that it contains five out of the six tastes recognized by Ayurveda, it is most important to recognize the effects of the "virya", or potency, and "vipaka", or post-digestive effect. Considered in this light, amla is particularly helpful in reducing pitta due to its cooling energy.It also balances both Pitta and vata by virtue of its sweet taste. The kapha is balanced primarily due to its drying action. It may be used as a rasayana (rejuvenative) to promote longevity, and traditionally to enhance digestion (dipanapachana), treat constipation (anuloma), reduce fever (jvaraghna), purify the blood (raktaprasadana), reduce cough (kasahara), alleviate asthma (svasahara), strengthen the heart (hrdaya), benefit the eyes (chakshushya), stimulate hair growth (romasanjana), enliven the body (jivaniya), and enhance intellect (medhya)
Source: Wikipedia
Product Description
| | |
| --- | --- |
| Type  | Outdoor& Medicinal |
| Sunlight level | Full Sunlight |
| Watering | Once a day (twice during summer) |
| Leaf Color | Green |
| Flower | No flower |
| Packaging | Delivered in Biodegradable packet |
Payment, Shipping And Tax Info
Online Payment -

You can make the payment online using any Credit Card, Debit Card, Netbanking or Cash Cards. Click on 'PayUMoney' at the checkout.


Cash on delivery

-

You can choose the Cash-on-Delivery (COD) mode of payment and pay for your order only when you actually receive it.
COD Charges
Shipping Option
Standard
Additional Rs 30 for Gift packaging
Hyderabad


Rs.

75

Not Available

Hyderabad

N/A

Rs.

105
---
We Also Recommend
---